2022 HPU Golf Fear the Fin Scholarship Fundraiser
Friday, September 9, 2022
Pearl Country Club
11:30 a.m. Shotgun Start
3-Person Scramble
Proceeds of this event will support the HPU Men's and Women's Golf Program and scholarships and give the Sharks the edge they need to elevate their game and defend their PacWest title! Click here for additional details and to register.
UH Fans Supporting UH Football
Click here to find out more or follow Kākoʻo UH on Twitter for raffles with prizes!
🔥SEASON TICKETS Raffle🔥

Donations with today's date 8/8 till the end of day Saturday 8/13 will be entered in this raffle. Winner announced 8/14.

With limited seating @ Ching Complex, we want to make sure you have a chance to watch da #BRADDAHHOOD in person all season long! pic.twitter.com/jyWPWmzgNj

— Kākoʻo UH (@KakooUH) August 8, 2022
Waialua High & Intermediate School is accepting applications for Head Coach in the following position:
Girls Varsity Soccer
Girls Varsity Basketball
Boys/Girls Judo
The position will be responsible for all aspects of their respective program. Some aspects include: teaching of strategies/skills of their particular sport, administrative duties such as staffing, monitoring of grades, character development of individual athletes, and communication with all necessary parties.
Qualifications: Would prefer candidates to have organizational skills, ability to communicate with others, and high school (or higher) coaching experience (but not required).
Resumes will be accepted from now through September 25, 2022. All resumes should be faxed to Athletic Director Darnell Arceneaux at 637-8209, or emailed to: darnell.arceneaux@k12.hi.us.
The Waiʻanae High School Athletic Department is now accepting applications for the Boys Basketball Head Coach position. Based on an evaluation of this application by a school panel, you may be invited to participate in a second interview.  We appreciate your commitment to our school, our students, and our community.
Email kuulei@hisportsradio.com to share your community event or fundraiser.

Hawai'i Women's Basketball Elite Camp
August 13-14, 2022
8:00 am – 2:00 pm
University of Hawai'i Manoa
The Hawai'i Women's Basketball Elite Camp offers two days of skill training, team games, individual competitions and fun! Skill work will be taught by UH coaches, along with current Rainbow Wahine basketball student-athletes. Each camper will be assigned a team within their respective age groups along with a group coach.
Commerative Hawai'i vs. Michigan T-Shirt
HiLife is kicking off the football season with this commemorative UH vs Michigan shirt. Game day is September 10, 2022. Purchase early to get it in time to wear for the game. Percentage of proceeds to benefit UH Football.
Rainbow Warrior Football Fall Camp
July 27 to August 9, practices will be split into two sessions with a special teams session in between.

Weekdays: 6:45–8:20 am & 8:50-10:15 am
Saturdays: 5:45-7:20 pm & 7:50-9:15 pm

Thereafter, practices will run from 6:45-9:00 am (Weekdays) and 5:45-7:15 pm (Saturdays).
Practices will consist of separate groupings. Players in each grouping will be determined the night prior.
All weekday practices will be held at the grass practice fields. Saturday practices will be held at the Clarence T.C. Ching Complex. (May change based on weather).
Practices are open to the public, however may not use electronic devices to photograph or record any part of practice. Media has own designated shooting locations and practice portions.
*SCHEDULE IS SUBJECT TO CHANGE WITHOUT NOTICE
On Sale Now
Season tickets for the 2022 University of Hawai'i Rainbow Warrior Football season are currently on sale. Season tickets may be purchased at etickethawaii.com or at the SimpliFi Arena at Stan Sheriff Center Box Office (Monday – Friday, 9 a.m. – 5 p.m.).
2022 UH Football Season-Ticket Prices:
General Public Areas (H-Club Membership Not Required)
Makai Sideline Sections 140-141 / 148-149: $300*
Diamond Head Endzone (all sections): $150*
* = Price includes applicable Seat Premiums 
CLICK HERE for full list of season ticket prices.
Season tickets for the 2022 University of Hawai'i Rainbow Wahine Women's Volleyball season go on sale Monday, July 25.  Season tickets may be purchased at etickethawaii.com or at the SimpliFi Arena at Stan Sheriff Center box office (Monday through Friday, 9:00 a.m. – 5:00 p.m.).
2022 UH WOMEN'S VOLLEYBALL SEASON TICKET PRICES
Lower level: Sections A,B,C,FF,GG,HH – $325*
Lower level: Sections AA,BB,CC,D,DD,E,EE,JJ – $305*
Upper level: Sections J-BB, HH-Q
        Adult – $150
        Senior citizen (65 and over) – $125
        Student (ages 4-high school) – $90
Upper Level: Sections K-P, CC-GG
        Adult – $135
        Senior citizen (65 and over) – $110
        Student (Ages 4 – High School) – $75
* = Price includes applicable Seat Premiums 
– Single-match tickets will go on sale on Monday, August 22.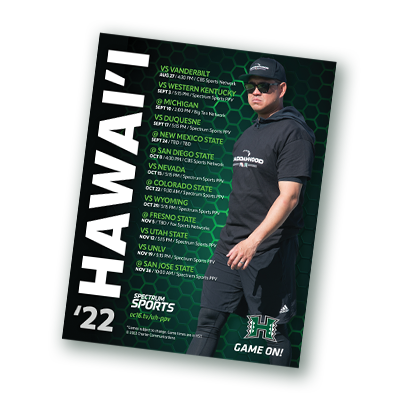 Hawai'i Football on Spectrum Sports PPV
2022
Spectrum Sports PPV Pricing

Season Package (8 Games)
$399.99
Individual Games
$69.99
PPV games include: Western Kentucky, Duquesne, Nevada, Colorado State, Wyoming, Utah State, UNLV, San Jose State.
UH season-ticket holders may purchase a package of two away games for $69.99.
Ways to watch additional games:
Vanderbilt (CBS Sports Network)
Michigan (Big Ten Network)
New Mexico State (FloSports)
San Diego State (CBS Sports Network)
Fresno State (Fox Sports Networks)
Call (808) 643-2100 to subscribe to the package.